GuardianERM.Net Help
Table of Contents
---
Action Plan
Module: Risk Management
Purpose: To record and monitor a plan to treat a risk.
To Access: Risk Management - Risk Evaluation (or Risk Review) - select Edit on Risk Select Action dropdown list - Action Plan.
To add or edit an action plan, click the Action Plan button on top menu bar on the Risk Details screen. You will get a prompt to save any change to the risk evaluation data before proceeding onto the Action Plan screen.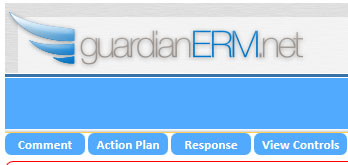 If there are existing action plans, they will be listed. The list can be filtered by selecting the filter and click the Set Filter button. You can view or edit the plan by clicking the Select link. To create a new plan click the New Action button.

Complete the details and click the Save button.

It is helpful to document the deficiency of the existing controls as well as the action plan to improve the control.
The Implementation Date is the date that the action plan is actually implemented. If the implementation is overdue, the item will appear on the Main Menu overdue items.
A reason for changing any information on the action plan must be given.
A history of changes to the action plan is kept by the system. To view the history, click the Change History button. A report in PDF format listing all previous versions of the action plan will be displayed in a new Internet Explorer window.
The action plan can be emailed by clicking the Email Action Plan button: An email can be sent to multiple recipients separated by semi-colons.