GuardianERM.Net Help
Table of Contents
---
Incident Archiving
Module: Administration
Purpose: To archive or retrieve from archive closed incidents.
To Access: Select Archive Incident from the Administration Main Menu
As the number of incidents increases over time, you may find that loading the Incident Register and navigating through the various incidents take a long time. The Archive Incident function is used to move old and closed incidents to an offline file to improve the performance of the online Incident Register.
Archiving
To archive closed incidents, click the Archive button. To retrieve one or more archived incidents, click the Retrieval button.

To archive closed incidents, select a year from the dropdown list. All closed incidents with an incident date falling into the selected year and the years prior to that will be archived. The history of changes, supplementary data forms (eg. WHS, Breach forms), cause and treatment and notes data will all be archived,

Note: Depending on the number of incidents you have in the system, the archiving process may take a few seconds to a few minutes. Do NOT disrupt the process by clicking something else on the screen or closing the browser. When the archiving is completed, a success message will be displayed. If an error message appears, copy the message and paste it in an email to GuardianERM@inconsult.com.au and we will investigate into that.
Retrieval
To retrieve one or more archived incidents, click the Retrieval button. A list of previously archived incidents will be displayed for the year (the incidents occurred or the incident date) selected.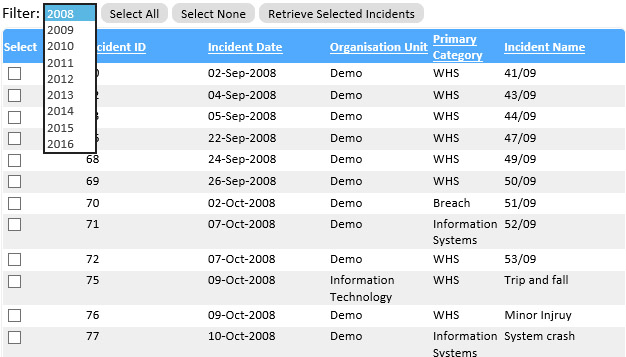 Tick the box for the incidents you want to retrieve and click the Retrieve Selected Incidents button. Depends on the number of incidents selected, the retrieval process may take a while to perform so be patient.
Once retrieved, the incidents will be in the current Incident Register and can be accessed just like any other incidents. However, the retrieved incidents will remain closed and you have to select the All or Closed incidents on the Incident Register to view them.