GuardianERM.Net Help
Table of Contents
---
Archive Register
Module: Registers
Purpose: To record documents sent to and from the arhchive facility.
To Access: Registers - Archive Register
Archiving is a mundane but important function of any organisation. The GuardianERM Archive Register is designed to centralise the recording of archived documents so they can be tracked any time.
When a user accesses the Archive Register, the register will be shown:

The register can be filtered by Location and Status using the dropdown list filters at the top. You can type some text and click the Search icon to search the register. GuardianERM will automatically search the Box No, File Reference and File Description fields and display only the records containing the search text entered in these fields. Click the Clear Search icon (next to the search icon) to clear the search.
To create a new archive record, click the Add Record button on the top left.
To access a record, click the corresponding Open link on the register.
A pop-up dialog box will be shown: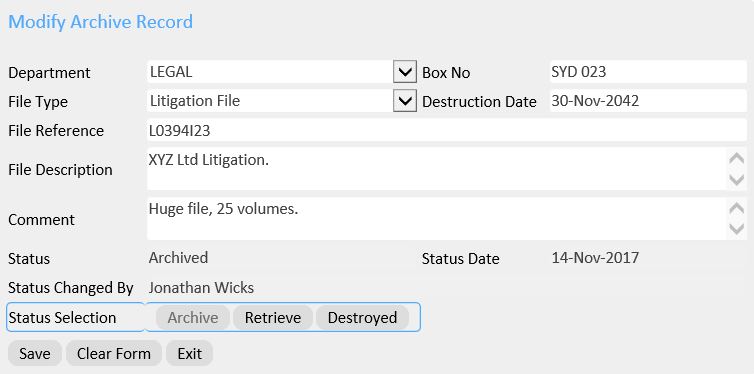 You may modify the data as required or select a Status action by clicking one of the three Status Selection buttons, Archive, Retrieve and Destroyed.
When the Archive or Destroyed button is clicked, the Status information will be changed. Click Save to save the data,
When the Retrieve button is clicked, an email dialogue box will appear: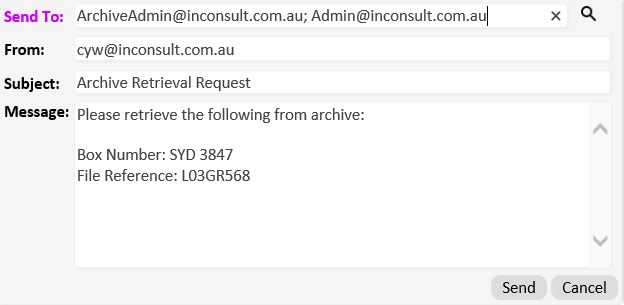 The email recipient is defaulted to the email address set up in the Archive Register Configuration in the Administration module. You may change it or add more email addresses separated by semi-colons (;) as shown above. You may change all fields on the email form. Click Send to send the email and automatically save the archive record details or click Cancel if you do not want to send the email.
Note: If you do not send the email, you will have to click the Save button to save any changes made to the archive record.